The 2019 Chevrolet 1500 in Las Cruces, NM and the 2019 RAM 1500 go toe-to-toe in the ultimate truck battle, which heavyweight will be crowned king of the segment? On one side, we have Chrysler's formidable, next-generation 2019 RAM 1500. On the other side is Chevy's newest pride and joy, the 2019 Chevrolet 1500. Both of these trucks claim best-in-class performance, but which one will leave the other in the dust?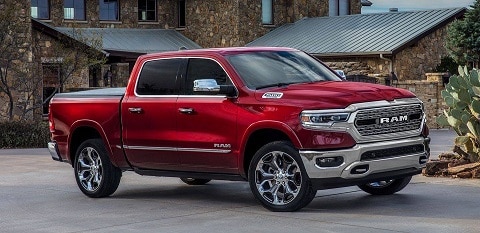 Safety Comparison
More than 200 people are injured yearly by getting backed over by vehicles. To prevent this, the 2019 RAM 1500 is available with Reverse Stop that will automatically stop the truck the moment it senses a rear collision. Backup collision prevention brakes don't exist on the Chevrolet 1500.
Drivers need as much visibility as possible to maneuver safely, and the optional Surround View Camera on the RAM 1500 gives drivers a complete view of their surroundings through a large, crisp screen. The Chevrolet 1500 only has front and rear parking sensors and a rear monitor, so drivers are left vulnerable to side obstacles.
Heavy-duty trucks like these two are driven over some of the roughest roads out there. To ensure safety when backing up, the RAM 1500 offers an optional cross-path warning system, which helps drivers avoid collisions by warning of oncoming vehicles to the side.  The Chevy 1500 left out this crucial feature.
To top it all off, the 2019 RAM 1500 is filled with safety technology that covers occupants from all angles. Included are standard airbags, height adjustable front shoulder restraints, four-wheel antilock brakes, rear view cameras, electronic stability systems, lane departure warning systems, crash mitigating brakes, blind spot warning systems, daytime running lights, and much more.
Passenger Space Comparison
In terms of space, the 2019 Chevrolet 1500 in Las Cruces, NM pales in comparison to the RAM 1500. The RAM 1500's Quad Cab has .5 inches more rear headroom, 2.7 inches more front hip room, and 1 inch more leg room than the Chevy Silverado Double Cab.
Want to recline your seat so you can settle in? Sadly, you won't be able to do that if you're sitting in the rear seats of the Chevy 1500. The RAM 1500 Crew Cab has optional rear seats that you can recline for maximum comfort.
More importantly, there's a 2019 RAM 1500 for every type of truck driver. If you prefer a rugged and practical work truck, choose the Tradesman. If you're looking for a truly luxurious truck, indulge with higher trims like the Lariat or the Laramie Long Horn. Their opulent features include heated and cooled semi-aniline leather seats, a 12-inch screen, real wood, LED headlights, 20-inch alloy wheels, and power running boards.
Reliability Comparison
The 2019 RAM 1500 has a 160-amp alternator to reliably recharge the battery, power the ignition, and turn on other systems. A smaller alternator means less power, and the 2019 Chevy 1500 only has 150 amps.
For 2017, J.D. Power and Associates conducted an Initial Quality Study via a survey among new car owners. They found that RAM vehicles are much better than Chevrolet vehicles when it comes to initial quality. RAM takes the cake with 4th place overall, an above average ranking. Chevrolet has two more problems for every 100 vehicles, placing it lower at 6th place.
If the warranty is a priority for you, this one is a no-brainer- the RAM 1500's corrosion warranty is unlimited, as opposed to only 100,000 miles on the Chevy 1500.
Engine Comparison
Power is a crucial factor for high-performance trucks, and the 2019 Chevrolet 1500 in Las Cruces, NM lags far behind the 2019 RAM 1500 in this category.
RAM 1500 3.6L DOHC Hybrid (305 HP) versus Silverado 4.3 V6 (285 HP)
RAM 1500 5.7 V8 (395 HP) versus Silverado 5.3 V8 (355 HP)
Thanks to the regenerative brakes on the RAM 1500 e-Torque models, inertia is converted back to energy to promote greater fuel efficiency. The Chevrolet 1500 is yet to equip this advanced technology.
For even more savings, the RAM 1500 runs on regular unleaded gasoline, but you need to shell out for the more expensive premium gas if you're using the 6.2 V8 engine on the Chevy 1500.
It's clear- the 2019 RAM 1500 is the finest example of what trucks should be. The 2019 Chevrolet 1500 in Las Cruces, NM is a well-designed truck, but head to head with Chrysler's cutting-edge beast, the 2019 RAM 1500 proves it is the mightier truck.