Concept Released: 2021 Jeep Grand Wagoneer in Las Cruces NM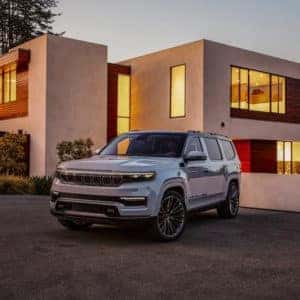 As of this writing, Jeep has only released the concept form of this original luxury icon. However, it's expected to arrive with standard and extended wheelbases, a range of available engines which include electric or hybrid form, and a variety of four-wheel drive options.
No matter what, when the lavish Grand Wagoneer and Wagoneer do arrive, Jeep will finally have an offering in the large body-on-frame (built like a truck) SUV segment. The 2021 Jeep Wagoneer in Las Cruces NM will compete with the GMC Tahoe, Lincoln Navigator, Cadillac Escalade, and even Mercedes Benz and Land Rover.


The original Kaiser Jeep Wagoneer pioneered what we now know as the SUV segment of the automobile market. Then in 1984 the Grand Wagoneer demonstrated to Americans what a luxury SUV could be; remember that wood paneling? But that came to an end in 1993, and hasn't been offered again, until now.


So did Jeep go all-out nostalgic and bring back the Grand Wagoneer of old, faux wood paneling and all? Not exactly. What they did do was integrate design elements of the original SUV into the totally modern look of the Wagoneer. The classic yet updated seven-slot Jeep grille starts things off and is illuminated on the concept vehicle.

2021 Jeep Grand Wagoneer in Las Cruces NM: Styling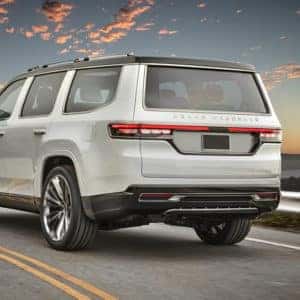 The body style is the basic big box shape of all large SUVs, but the huge chrome parts of the original have been swapped for more minimalist hints of metal. Accentuating its high ground clearance, the concept 2021 Jeep Wagoneer in Las Cruces NM stands on 24-inch wheels which by no means look oversized on this giant SUV. The roof rack is integrated with wood pieces reminiscent of the Wagoneer's heritage.
Inside, the Grand Wagoneer spares no luxury touch, filling the cabin with ultra premium materials, artistic lighting, and extravagant traces. Accent trims include heat-treated lacewood, onyx glass, and aluminum. It has room for seven, although seating for eight is likely; with large windows and a panoramic roof to give everyone a view.
The interior was also designed with a nod to sustainability. The carpeting is made of Thrive fiber, which is made with recycled material. The headliner is produced from Dinamica®, a recyclable, microfiber suede-type material, and the upholstery of the concept is synthetic leather.
The 2021 Jeep Grand Wagoneer will share its platform with the RAM 1500, so that means all those different engines could be available. There's the 3.6 liter Pentastar V6, possibly with the eTorque mild hybrid, the 5.7 liter Hemi V8, or even the 6.4 liter V8. There's even the question of RAM's V6 EcoDiesel.
When the 2021 Jeep Grand Wagoneer in Las Cruces NM goes into production, it'll be available with three different four-wheel drive set-ups, along with an air-suspension package. Because it will compete with high-end SUVs like the Lincoln Navigator and Cadillac Escalade, it's off road performance needs to be balanced with its level of refinement.
The technology inside is powered by the newest version of FCA's easy-to-use, but powerful Uconnect 5 infotainment system. The cabin also boasts nearly 45 inches of screens arranged along the concept vehicle's dashboard. There's a stacked pair of screens in the center for climate control and infotainment, a 12.3 inch virtual instrument panel, and a 10.25 inch screen for the passenger in front. The second row captain's chair passengers each get a 10 inch screen, and there's a 10 inch screen on the console between the front seats. A McIntosh 23-speaker audio system with a 24-channel amplifier is also included in the concept vehicle.
Safety features and fuel economy are still in the works, as well as trim levels and specific pricing. We can expect the Jeep Grand Wagoneer to start around the same price as its main rivals and climb close to the six figure mark in its top trims.
No matter what changes before the production model arrives, when it does arrive, come on over to Viva Jeep to see this all-new American classic!