Date Posted: November 27, 2018
For a crossover SUV, the 2019 Buick Envision in Las Cruces is a decent option. It's spacious, provides lots of small storage bins, and performs well. However, when you're getting a new car, especially for the family, it's important to screen your next vehicle carefully.
The classic 2019 Dodge Journey is another standout entry in the crossover SUV segment. Between the two, which one offers greater benefits for families? Let's look at their features to find out.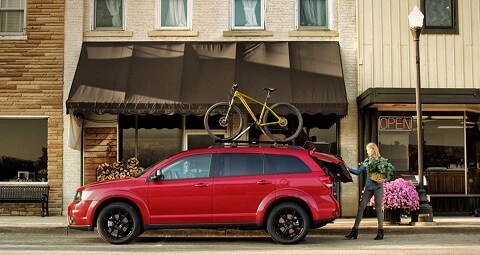 Safety Comparison
If you still have toddlers, it's crucial for an SUV to have safe child booster seats. The 2019 Dodge Journey can be outfitted with available built-in child booster seats. These are directly attached to the seat, adding an extra layer of protection in the event of a crash. It's also convenient as you can fold the booster seat up or down when needed.
The 2019 Buick Envision does not incorporate this unique design. Therefore, you're required to carry bulky and heavy booster seats every time your children change vehicles, making it more complicated to get the little ones settled down.
Another form of security on the Journey are Active Head Restraints. These protect passengers from spine and neck injuries during a rear-end crash. Like the built-in child booster seats, this whiplash protection system is absent from the Envision.
The 2019 Dodge Journey is equipped with a full complement of airbags, front seatbelt pre-tensioners, 4-wheel antilock brakes, electronic stability systems, optional rear parking sensors, rearview cameras, daytime running lights, and other safety features for a high level of security.
Passenger Space Comparison
Want to go to the beach with all the nieces and nephews? How about taking your children and their friends to a soccer game? The 2019 Envision limits passengers to five at a time. Fortunately, you can give up to seven people a ride in the 2019 Dodge Journey.
In a family SUV, space is a huge priority. The 2019 Dodge Journey offers 121.7 cubic feet of cabin space for everybody, while the Envision is more cramped at 100.6 cubic feet.
Groceries, camping gear, sports equipment - utility is a non-negotiable element of family vehicles. Maximum cargo volume on the Envision is only 57.3 cubic feet. You get much more room, at 67.6 cubic feet of storage, in the 2019 Dodge Journey.
The 2019 Dodge Journey also offers clever features like a temperature gauge and an oil pressure gauge to let you know of potential issues with the engine. The Envision does not have this.
If you'd like to air out the car before getting in on a hot day, you can simply use your keyless remote to lower the windows. Sadly, windows on the Envision can only be lowered from the inside, which means the car will still be hot when you get in.
Reliability Comparison
For families, every cent counts. Therefore, the SUV should be designed to be as durable as possible. That's why the Journey keeps its battery in the front fender, protecting it from degradation due to hot temperatures under the hood. This adjustment increases the battery lifespan up to several years.
In contrast, the battery on the Envision is located in the hot engine compartment. You might have to spend on an expensive new battery sooner than you'd like.
Need maintenance or repairs? With 17% more dealers than Buick, you'll have an easier time getting service with the 2019 Dodge Journey.
Engine Comparison
A three-row SUV requires considerable power to move people and cargo. The optional 3.6L DOHC V6 gives you 283 horsepower, while the standard 2.0L turbo on the Envision Premium can only deliver 252 horsepower.
Enjoy longer time between refuels with 20.5 fuel capacity on the 2019 Dodge Journey. You need to make more stops at gas stations with the Envision since it can only load up 17.3 gallons at a time.
The Envision also uses costlier premium gasoline, but you can save more money on fuel since the Dodge Journey only requires regular unleaded gasoline.
Looking back at our rundown, it's clear that between the 2019 Buick Envision in Las Cruces and the 2019 Dodge Journey, the Dodge Journey is a wiser choice if you're looking for a family SUV. Considering the Dodge Journey outsold the Buick Envision in 2017, it seems that a lot of shoppers also agree.
See the 2019 Dodge Journey up close here at Viva Dodge RAM FIAT of Las Cruces. Click to view our 2019 Dodge Journey inventory!
Hours
Monday

Closed

Tuesday

09:00AM - 05:00PM

Wednesday

09:00AM - 05:00PM

Thursday

09:00AM - 05:00PM

Friday

09:00AM - 05:00PM

Saturday

09:00AM - 05:00PM

Sunday

Closed