Now's the Time for a New Adventure in a 2023 Jeep Wrangler in Las Cruces NM
The classic and iconic Jeep Wrangler is beginning another year of off-road adventures and on-road successes as the 2023 edition makes its way to Jeep dealers across the nation. If you're anything like us, you may be thinking that the 2022 Wrangler was pretty great, so why even change anything about it? 
Well, you can relax because there's no reason to worry! The 2023 Jeep Wrangler in Las Cruces NM has received no significant changes for the new model year. All that we loved about the 2022 Wrangler will still be there for us, but a few upgrades and enhancements added for the 2023 model will provide even more possibilities for Jeep shoppers who didn't take the plunge on a new Wrangler last year. 
Changes on the 2023 Jeep Wrangler 
For openers, America's original and most famous SUV gets two new beautiful paint color choices for 2023. One is a smoky grayish silver with aquamarine undertones and is called Earl. The other brings a gorgeous purple hue back to the Wrangler lineup, and it's called Reign.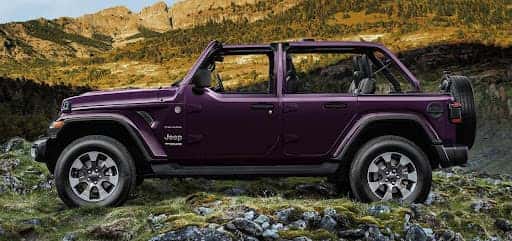 Other updates include an American flag Wrangler badge on the front fender of the Rubicon models, along with new 17-inch wheel designs. If you like the patriotic look of the American flag, you might want to take a closer look at the new Wrangler Freedom edition, which comes with even more "American" touches and was designed as a salute to the U.S. military.
What Else Comes with the 2023 Jeep Wrangler in Las Cruces NM? 
OK, like we already stated, the Wrangler was pretty awesome for the 2022 model, so what incredible features and capabilities should you expect to carry over for the new model? 
We'll begin with standard equipment. From the outset, the Jeep Wrangler puts you in charge of an exciting 285 horsepower V6 engine with 260 lb-ft of torque. And for drivers who enjoy the fun of a stick shift, (Jeep knows you're out there!) the base model Wrangler comes with a 6-speed manual transmission. Other features that come as standard equipment include hill-start assist, trailer-sway control, and a full range of advanced safety technologies. All this and a bit more come at a starting price around $30K. 
If you would like more features or safety tech, you can move up the roster to a higher trim level. On those trims you can enjoy equipment like a forward-facing TrailCam, which will give you an easy view of the road or trail ahead, an 8.4-inch infotainment touchscreen that gives you hands-free access to all your favorite apps, and a full-time transfer case (with a 4:1 gear ratio) for continuous crawling over difficult terrain. 
Come See the Wrangler Up Close
Have you been thinking about going off the beaten path with a new 2023 Jeep Wrangler in Las Cruces NM? If so, now's a fantastic time to make your move! To learn more or set up a test drive, contact us here at Viva CJDRF dealership or come by 860 N. Telshor Blvd, Las Cruces NM.