After nearly a decade of being on the market, the
2020 Jeep Grand Cherokee near Albuquerque NM
continues to pack surprises for Jeep fans and car enthusiasts alike. Year after year, the Grand Cherokee never ceases to amaze with its eye-catching looks and jaw-dropping engine performance. Drivers can expect this year's model to meet the same standards. This year, the Grand Cherokee has another trick up its sleeve; a third-row option.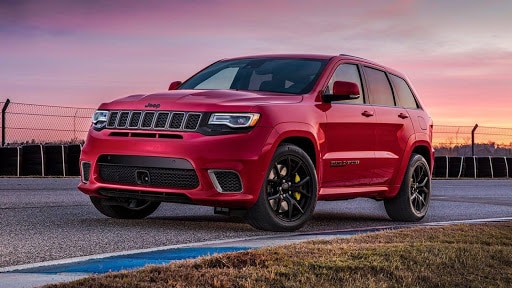 Unlike the other makes and models in the crossover category, the 2020 Jeep Grand Cherokee is actually designed for more rugged terrains. If you have a deep yearning to explore places off the beaten track, or if you're simply looking for a car that can withstand potholes on the road, the Jeep Grand Cherokee is the one for you.
Apart from its unparalleled off-road capabilities, there are several more reasons to be excited for the 2020 Jeep Grand Cherokee.
Long Drives Powered by Muscular Engines
The most basic package offered by the 2020 Jeep Grand Cherokee near Albuquerque NM comes with a 3.6-liter V6 engine with an eight-speed automatic transmission. This engine has the capability of producing 295 horsepower and 260 lb-ft of torque, which is likely more than enough for your daily needs. If you're up for it, upgrade this engine to a 5.7-liter Hemi V8 engine, which packs a punch with 360 hp and 390 lb-ft.
For those with an unquenchable thirst for engine power, you can go for the 2020 Grand Cherokee Trackhawk, powered by a 6.2-liter V8, which produces a whopping 707 hp and 645 lb-ft. With this trim, you can speed to 60 mph in a mere 3.5 seconds. You can even carry as much as 7,200 pounds with that kind of power in your engine.
A Spacious Beast
Since the Grand Cherokee is built for adventure, it's only fitting that its interior should be designed to accommodate loads of gear. It can comfortably seat four adults while fitting a week's worth of luggage. You can now choose a third-row seating option in the 2020 Jeep Grand Cherokee as well. This is perfect if you have a large family or several friends that tag along.
Apart from its spacious interiors, you can also bask in the Grand Cherokee's luxurious design, especially if you opt for the higher trims. Also available is an innovative 7-inch dashboard screen equipped with a top-of-the-line Uconnect infotainment system, which can connect with Apple Carplay and Android Auto. These features are more than enough to provide fun and entertainment for hours on end. 
Available Trims 
For this model year, the Grand Cherokee is available in seven trims: Laredo, Limited, Trailhawk, Overland, Summit, SRT, and Trackhawk. Each trim boasts an entirely unique feature set. For instance, Laredo, Limited, and Trailhawk are all equipped with bi-xenon headlights with auto high beams, daytime running lights, and LED fog lights. That's just the tip of the iceberg, as you can expect something entirely different for each trim.
These features describe a formidable beast in car form, and the 2020 Jeep Grand Cherokee near Albuquerque NM is something that's best admired up close. Visit Viva Jeep today to test drive the 2020 Jeep Grand Cherokee.